There are three large, imposing houses which have played a significant role in the history of the village of Hook........two of which are just outside the community boundary.
The web of ownership of all three has been drawn upon by local historians and all three properties are" Listed" which means they have significant architectural and, indeed, historical aspects considered worth protecting and preserving for future generations to enjoy (writes Richard Howells).
Once a building is Listed that recognises its national importance and there automatically follows a high degree of legal protection. Listing can vary hugely and can be bestowed upon a vast range of structures from medieval churches to railings; from industrial heritage to sign posts and even telephone boxes.
The first of the trio of properties which has featured prominently in the history of Hook, and which it is generally agreed should be retained and cared for, is CLARESTON, a rather splendid property in Freystrop accessed along a long drive off the picturesquely named Puddle Duck Road.
Of the three houses featured in this article, Clareston, is the most grand; it is built on high ground standing sentinel over neighbouring villages .........appropriate perhaps as the owners of the property, over the years, have played a major role in the development of Freystrop and Hook ranging from the owners of vast areas of agricultural land; landlords; coal mine owners and in the early 20th century it was the home of a popular and community spirited Member of Parliament.
GENTRY HOUSE
Described as a gentry 18th century house, it was remodelled around 1830 by William Owen of Haverfordwest. It is rumoured the world-famous architect John Nash was involved in the design but there appears little to substantiate the claim. Nash, of course designed Foley House in Haverfordwest and much more prestigiously Buckingham Palace and Marble Arch!!
It is, however, quite certain that William Owen of Haverfordwest was largely responsible for the redesign of Clareston.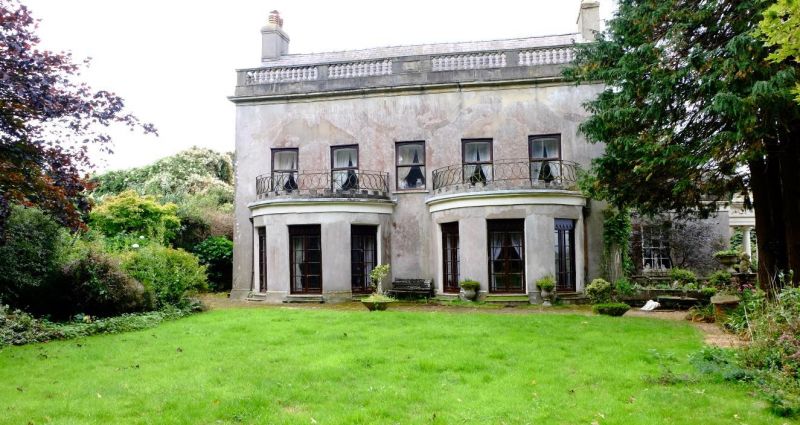 Above: The front aspect of Clareston which clearly illustrates the splendour of its original design. (Pic: Goff Thornberry)
Owen was also responsible for the design of the Shire Hall in Haverfordwest and the once elegant terraces of Victoria and Picton Place. He also designed and paid for out of his own pocket the New Bridge in the county town. He was reimbursed by being allowed to collect tolls for crossing the bridge.
Also in his portfolio is Scolton Manor, (once the ancestral home of the Higgon family and now the centre piece of a local authority administered Country Park) and Albany Chapel, which is near St Thomas Green.
I wonder what he would have thought of having a Quay Street pub/restaurant named after him!
Clareston was recorded in 1738 as being owned by George Roch, son of Roch of Rickeston, who had inherited the property from the powerful Powell family.
His sons followed him at Clareston. George Roch, High Sheriff 1789, died in 1820; then Joseph died 1827, and then Joseph's son George Clayton Roch, High Sheriff 1830, who burnt to death in his bed in 1833.
There is a detailed account of the various owners and tenants of Clareston in the well-researched book Freystrop and Folk by local historian Beryl Davies, who also describes in some detail the many internal and external aspects which warranted the Listing including the importation of special quality stone.
LOCAL M.P.'s HOME
Clareston was also the home in the early 1900's of Haverfordwest solicitor Charles Price, who became a Member of Parliament for Pembrokeshire when he defeated the sitting member Gwilym Lloyd George only to lose to him a few years later.
Major Lloyd George held the seat until he was ousted by Desmond Donnelly in the late 1940's. It is said Charles Price lost his seat in Parliament as a backlash of the closure of the Royal Naval Dockyard at Pembroke Dock…..a Government decision which cost hundreds of Pembrokeshire jobs.
For his services to the Conservative Party, Charles Price was knighted.
Not only does the "big house" benefit from Listing but equally recognised is the stable block and the gate and railings that protect the long sweeping drive up to the house.
LITTLE MILFORD……………….the second property
The second property is Little Milford's big house which sits snugly on the riverside and obviously built with the splendid river view in mind and according to Major Francis Jones (the Wales Herald Extraordinary) it was originally built around 1682 when the Perrots of Haroldston are recorded as leasing land at Little Milford. The reference is in the Major's book Historic Houses of Pembrokeshire.
Described as a small country house of the early C19 with attached range of an earlier C18 lofted outbuildings.
First mentioned in 1682 as part of the Perrott of Haroldston estate and occupied by John Bevans, yeoman.
In 1722 there are references to John Steward, gentleman, and his son Charles, of Little Milford. By 1756 the house was owned by Caesar Mathias, High Sheriff 1774, who died 1795. His son, Sir Henry Mathias moved to nearby Fernhill, was High Sheriff in 1816 and died in 1832. It was the Mathias family that built the quay at Hook and so ensured the future of the village as a coal exporting point.
The current owners, the National Trust describe the Little Milford house as follows: The main part of the house is a small, elegant country mansion probably built in the early part of the 19th century. An earlier house on the site was left to become a barn and either a brewery or a laundry and the new house added to the south creating a partial courtyard between the two. Parts of the old building are probably 17th century. The new house was positioned to take advantage of the river views.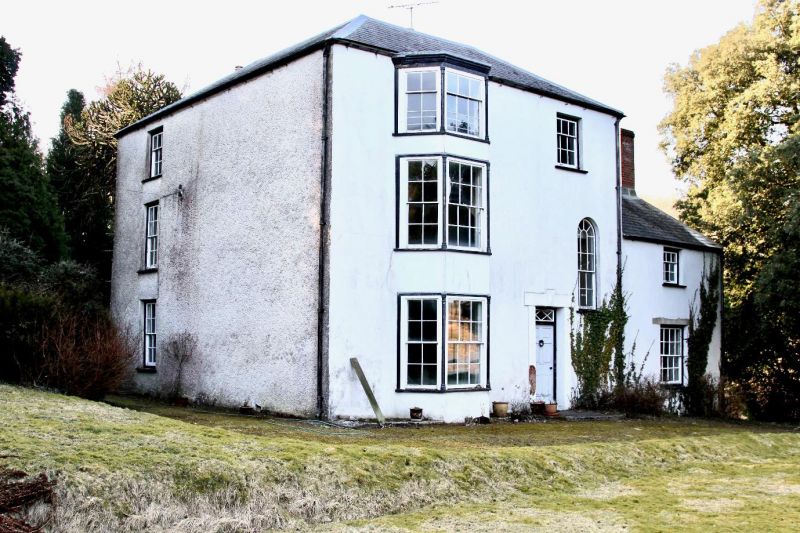 Above: The front view of the big house at Little Milford. (Pic: Goff Thornberry)
The outbuildings have always aroused particular interest and were very much a consideration during the Listing process, In fact the reasons for Listing are: A good late Georgian small gentry house with attached early C18 range and lofted outbuilding.
The owners of the house are well recorded but the family that had a most direct effect on the village of Hook was when Mr and Mrs Joseph Steven Roberts bought the rather run-down house in 1894.Prior to that the family lived at Underwood, Hook. The family was closely linked with mining and forestry and in fact one of the best-known pits in the Hook coalfield was named after Mrs Roberts...The Margaret Pit.
The family were also enthusiastic supporters of the campaign to have what is now the New Road constructed to link the village of Hook to Freystrop in the 1920's…..in fact Mrs Roberts formally opened the road by cutting a ribbon with a presentation "golden" scissors.
Privately educated at Hill House College (Hill House College was a private education establishment in Hill Street, Haverfordwest and was demolished to make way for a block of flats in the early 1950's) in Haverfordwest the son Joseph Harcourt Roberts was also to have a considerable impact on the village. He returned to Little Milford after studying forestry at Bangor and in partnership with a close friend, Ben Fever transformed Little Milford Woods into one of the country's leading nurseries. Mr Roberts married his German born nurse Erica, who on arriving at Little Milford soon became a very popular lady with the inhabitants of both villages.
In 1972 Mr and Mrs Roberts bequeathed the 70 plus acre Estate along with several on site properties to the National Trust. While the Nursery was going full swing employment was provided for numerous women to carry out planting and weeding and every Christmas each lady had a Christmas tree delivered as a little thank you gift.
BEST STANDING WOOD
In 1603 historian George Owen described Hook wood as one of the "best standing woods of Pembrokeshire". And, it is claimed 142 different animal species have been found over 12,02 hectares and also190 plant species.
Ben Fever and Joe Harcourt Roberts were both ornithologist of note and they jointly supplied the data which persuaded the Home Secretary of the day to put into being the Cleddau Wildfowl Sanctuary Order which recognised the area around Hook as a refuge for a huge range of wading birds. This was in 1970 and was also an important factor in 5,500 plus acres of shoreline being graded an area of outstanding scientific interest....... SSSI.... in the early 1980's.
Among the regular avian visitors to the area are literally hundreds of Shelduck; Widgeon; Teal and Curlew as well as a fascinating range of rarities.
16th CENTURY FARMHOUSE…………the third property
The third property is Hook Farm and its place in history is portrayed in this addition by an article by current owner, Gus Stott. The article was published in a book of articles recently commissioned by the Hook History Society.
East Hook Farm is one of the oldest remaining buildings in the area of Hook and provides some insight into the fortunes of this corner of Pembrokeshire over the centuries.
The farm sits near the junction where the Cleddau splits into its Eastern and Western arms, a mile or so east of the village centre, at the far end of Lower Quay Road. The earliest record refers to Richard Eynon "of East Hook, yeoman" in 1548, and although exact dates are scarce the farm buildings have been altered, extended and rebuilt at regular intervals ever since, resulting in a pleasingly jumbled but solid farmstead, complete with outbuildings, gardens and farmland running down to Fowborough Point and Sprinkle Pill.
TRAVEL WAS ARDUOUS
This waterside location would have been highly practical in the days when travel on land was so arduous and no doubt the land has been worked for many centuries with goods arriving and departing by boat from shingle banks and small quays. The old stone field boundaries and a mysterious standing stone suggest very long farming and human activities.
Records of ownership and occupation are reasonably complete with Owen Jordan resident in 1599, followed by the Hicks family for much of the C17. It seems to have often passed through the female line with Owen Hick's daughter Mary marrying John Jones who was the owner in 1669. Their daughter married Richard Eynon, living at East Hook in 1727. The farm was then passed by marriage to Richard Knethell, attorney, recorded as owner in 1760 and 1786.
BEQUETHED A FEATHER BED
The C19 seemed to be a prosperous time for the farm. George Whittow's will of 1821 gi ves some insight into the variety of livestock and crops that were being grown. He bequeathed to his son "Horses, Colts, Cows, Oxen, Steers, Heifers, Calves, Pigs, Sheep, Corn, Hay and Pulses" and to his daughter Jane "the third and fourth best cows, also the best bedstead, feather bed, bedding and furniture with the oak chest of drawers now standing in the little parlour with one mahogany table and six chairs".
This George Whittow had twenty-two grandchildren with at least six of his sons and grandsons becoming farmers. His son, also George, proved to be an excellent businessman as well as a prosperous farmer and he successfully applied for a grant in 1837 in connection with a colliery railway which suggests he had now become involved in the Hook coal industry. The farm was later acquired by the Harcourt Powell family, mine owners and operators, who owned it through much of the late C19 by which time the scope for coal mining beneath the fields was probably recognised.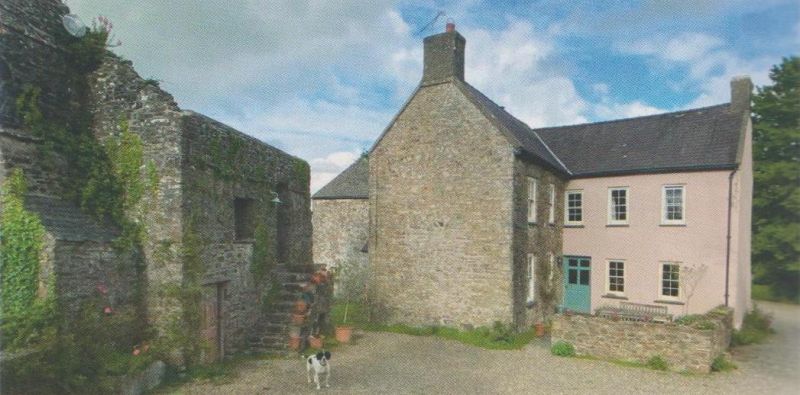 Above: The village of Hook's only listed building....Hook Farm. (Pic: Goff Thornberry)
There are some very early bell pits dotted around the farm but the very extensive Pill Slope Pit was worked into the C20 east of Boggy Lane at which point farming must have taken a back seat. When the mine closed the spoil was bulldozed back into what now look like normal fields. The farm was acquired by William Thomas in 1920 followed by Joseph Yolland in 1941, whose family owned it until 2001 by which time the buildings had fallen into disrepair. Many Hook residents have strong memories of the farm and its characterful residents over the late C20. It has since been restored but retains much of its intrinsic character and is relatively complete.
Small country house of early C19 with attached range of earlier C18 date and lofted outbuilding of later C18 date. First mentioned in 1682 as part of the Perrott of Haroldston estate, occupied by John Bevans, yeoman. In 1722 there are references to John Steward, gentleman, and his son Charles, of Little Milford. By 1756 owned by Caesar Mathias, High Sheriff 1774, died 1795. His son Sir Henry Mathias moved to Fernhill, nearby, was High Sheriff in 1816 and died in 1832. Owned in 1907 by J S Robbers. The curious rococo ornament on the ceiling of the dining room looks later C18, suggesting that rear wing is a remodelling of older range, perhaps raised or reroofed in C19.
Exterior
House, stucco with slate roofs. Early C19 main range is a square plan 3-storey, 2 bay building with hipped close-eaved roof with centre valley. Front to river has 3-storey canted bay to left with 8-12-8-pane sashes to main floors and 6-9-6-pane sashes to top floor with cornice. Thin turned columns at angles each floor and roughcast between floors. Right side is irregular as unusually incorporating stair window on the facade wall. Ground floor 6-panel door with 2 flush panels and 4 fielded with rebated corners to panels. Lattice glazing bars to overlight. Plain raised surround. To right at mid height is long arched stair light with small-paned sash and radiating bars to head, and top floor has 9-pane hornless sash, aligned between door and stair-light. Plain roughcast left side wall with hornless sash each floor to left. Rear has red brick wallface chimney. Rear left has projecting wing with slightly half-hipped end to roof and left side-wall brick chimney. End wall has 4-pane horned sash over hornless tripartite 4-12-4-pane sash. Right side wall of main house has similar hornless sash to upper floors set to right over rear roof of low service wing with front 9-pane small sash over large 16-pane sash, brick right end stack and outshut rear with small window and door in angle to main house.
To right again and set back is a lower range which appears to be an early C18 house converted to outbuilding when the new house was built. Rubble stone with roughcast low 2-storey front, two C19 plain loft windows over C19 board door and window, with a paired window to left of door, the windows fixed casements. Rubble gable end has loft light over lean-to, and rear right has gable with big square rubble stone chimney.
The farm buildings and house are typical of a rambling, relatively unplanned development with some very old buildings incorporated into later changes. The main house looks early C18 but has an earlier core and there are several phases which make up the whole. Much of the exterior is still covered in the original limewash and piecing together clues through old joints, openings and stone patterns provides ongoing debate. The interior details include a c1700 staircase and a panelled parlour discovered during renovation work.
The farm buildings are mainly C19 and include pig sties, cattle sheds, a granary and walled gardens.
Perhaps the most intriguing part is the separate, ruined original farmhouse which is also Grade 11 listed on account of its ancient heart and many unusual details. This includes a massive chimney stack and fireplace, along with a Flemish chimney, dove holes and a stone dog kennel under the external stairs. There is a large internal kiln which may have been used for brewing purposes and the whole complex may have served as workshops, kitchens or quarters once the "new" house had been built alongside.
Now partly converted to an office, the roofless remainder is home to squabbling blackbirds, sparrows and tits who nest in the ivy. The holes and crevices in the old stonework provide happy homes to swallows and swifts.