Article Number Five in Hook History Society's Lockdown Series.
This article has highlighted people who were either born or lived in the village and were thought to have contributed to the wider world. One a West Indian who ran away to sea to eventually settle in Hook; marry and live a contented and happy life without the need for law enforced pc. Another left school at 14 to eventually build one of the most successful newspapers in Wales. Others were champions of protecting footpaths and rights of way and another a daring, decorated pilot who help develop aircraft carriers.
Popular West Indian
Frank Hazel.......................known throughout Hook and adjoining villages in days when the population was far less pc conscious but, nevertheless, welcoming to men who moved into the community in search of work in the colliery......as Frank the Blackman.
It was bestowed upon Frank without malice or rancour and accepted by an obviously pragmatic Frank who was a well-liked and a very popular member of the community. It must be remembered his was over 90 years ago when to have a West Indian in a small isolated inland community like Hook was extremely unusual.
Frank worked in Hook Colliery and lived for some years in a clom built cottage on the New Road at Maddox Moor with his wife SARAH.
Prior to that they lived in Cants, Lower Freystrop...moving to the New Road in 1929.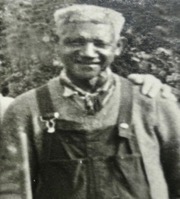 He died in 1958 having been, as a pedestrian, in a collision with a car driven by a Mr Lewis of Haverfordwest. He is buried in Freystrop cemetery and the storey has it that some years ago two members of his family, both doctors, in this country from the West Indies visited the area, spoke to some of the area's older residents, and visited Frank's grave in the nearby Freystrop cemetery.
Frank came from the West Indies having run away to sea as a teenager. It is believed he went to sea on a Milford Haven based trawler, at a time when there were literally dozens of steam driven vessels fishing out of the port. It is also believed that as a seafarer he also visited Hook Quay on coal collecting vessels. Once settling in the Hook/ Freystrop area he gained employment in the local colliery as an above ground worker.
At this time well over 100 men worked the anthracite mine at Hook.
Top newspaper man
A Hook man, who was proud of his rural background, was educated at Llangwm school and left on his fourteenth birthday to become an apprentice printer in Haverfordwest. He cycled or walked to Haverfordwest each day working long unrewarding hours that would not be tolerated today.
By the time he reached his mid-twenties the ambitious young man had bought the ailing Western Telegraph for £900 and through sheer hard work built it into one of Wales' bestselling weeklies.
That man was John Thomas, who died in 1943 and is buried in Mount Zion Chapel, where as a youngster he attended the Sunday School and all chapel activities. A journalist, Bill Richards, for many years a reporter with the West Wales Guardian, knew the late John Thomas very well and refers to him in his book, HAVERFORDWEST MY GRANDSTAND.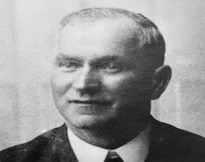 John Thomas was a remarkable man. Studious, shrewd, exceptionally hard working, curmudgeonly at times and undoubtedly courageous, he was at the same time, modest but proud of his humble beginnings. He was born in Hook in1880, the youngest of five children and left school at 14 to become an apprentice printer on the newspaper he was eventually to own and edit for 25 years, becoming one of the county's most powerful men and a Justice of the Peace to boot". Apart from writing news and leaders for the Telegraph Mr Thomas contributed to practically every national newspaper in the country and it was his proud boast that it was these earnings that allowed him to purchase the Telegraph.
There is no doubt that John Thomas was fine businessman, journalist and descriptive writer but had the odd eccentric view.
For example, until the death of John Thomas the Western Telegraph always printed the village name as Langum...........none of that Llangwm nonsense for JT!
It was Langum over the school where he was educated so that was that. Privately, he placed the change of spelling at the door of a Welsh speaking local religious leader.
John Thomas' newspaper legacy was continued by two sons....Reg and Herbert.............until they sold to a national newspaper organisation in the mid 1970's and retired to the Isle of Man. Reg Thomas' son, Stephen, who lived in Freystrop, was groomed to take control of the business but sadly he died in a motor accident.
Footpath Champion
Andrew Coulter was a Scot and before his retirement to a secluded cottage at Sprinkle Pill was a dentist based in Surrey. He was a man of many talents: he was very proud of the fact that he had held high office with the Masonic organisation in Surrey; he was a successful exhibitor of spaniel dogs at the world famous Crufts but above all he was a countryman.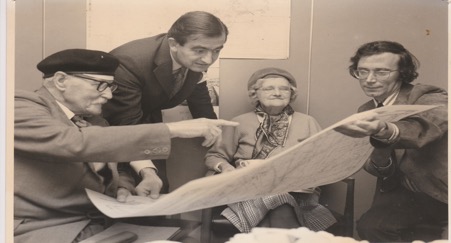 Above: Mr Coulter explains to the late Andre Deval the footpath that is causing him concern. Also, in the picture are Mrs Coulter and Richard Howells the PR to Preseli District Council.
With that went many happy hours walking footpaths and bridleways and to the bane of local authorities and uncooperative landowners a champion for the retention of ancient rights of way.
When the famous Epsom Racecourse was to be extended the  plan was to extinguish a path that for many years people had taken to enjoy the popular Downs but Mr Coulter and his supporters had different ideas and after a lengthy battle a compromise was reached.
Two furlongs from the finishing post a right of way tunnel weaves its way under the turf....and people can still enjoy the Downs even on major race days.
Sir Alec Douglas Home also ran into Mr Coulter when a path was disputed on the magnificent Coldstream estate. Again, the wily campaigner won the day.
He had not settled long in Hook when Mr Coulter took up the cudgels in defence of a path that ran from the bottom of Pill Road up and over the fields to Llangwm. It was much used when Hook children were educated in Llangwm and, of course, these were the days when there was a significant community living in the Sprinkle area and the path over Appy's field saved a long walk up to the main road and then the main road to Llangwm. These were the days, for example, when people from Hook even had to walk to Llangwm to vote. Until the late 1970's there was no polling station in the village of Hook.
On local government reorganisation in 1974 the Haverfordwest Rural Council and Pembrokeshire County Council was replaced, in our area, by Preseli Pembrokeshire District Council and Mr Coulter took up his struggle with the new authority. He is pictured along wife his wife explaining the whereabouts of the blocked path to District Secretary, the late Andre Devall (formerly town clerk to Milford Haven Urban Council) and Richard Howells, who at that time was the Council's PR man.  
The issue was soon resolved, and the footpath is still today enjoyed by many walkers. An interesting comment by Mr Coulter in a newspaper article in the Western Telegraph in the late1950's was......."The people of the area seem rather apathetic when it comes to protecting footpaths and rights of way"
Ring any bells!
Last Woman Miner 
The last woman to work in Hook colliery was Esther Phillips and she was described as " tall, about five foot ten, strong and a very good looking lady." Another reference referred to her considerable strength and the fact that she is buried in Mount Zion cemetery. 
A brief examination of the 1911 census list Esther's birth as "estimated 1843" and she lived in a two roomed cottage on the Underwood Road. Her occupation was listed as "winder at the village colliery". A winder was the person who turned the handle on the windlass which hauled coal up steep slopes.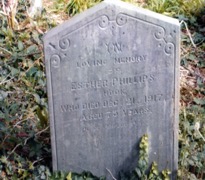 The 1851 census, when Esther was about eight years of age, shows her living with two brothers and a sister. The father had died and a 13 yar old brother was listed as a "miner". The father had died when Esther was very small.  
Ten years later only the mother and Esther...now 18....were living in the family home and both were described as colliery workers.
The Mines Act of 1842 was approved by Parliament and prohibited boys under ten from working underground.....11 year olds could still labour at the coalface for eight to ten hours a day.
The same Act stated that no females should work underground but these regulations were very slow to be enforced in Wales and took even longer in the periphery coalfields such as Hook In the late 1880's there were, according to Government statistics 40 women working in Pembrokeshire collieries and only four in the first decade of the 1990's.
The plight of the worker in those days is highlighted by the fact that until 1909 there was no State Pension and then single pensioners received a mere 25 pence and married couples approx. 38 pence and this was payable at the age of 70 .......life expectancy in the early 1990's was a little over 50!
Among First to Land on a Carrier
A man who lived at Deerland was one of the first pilots to land an aircraft on a ship................a pioneer pilot, who as a member of the Royal Flying Corps, heralded the birth of what today are massive and all powerful Aircraft Carriers.
He was William Sambrook, who on his retirement lived at Deerland with his sister and brother in law, Mr and Mrs Victor Palmer.
At the outbreak of the First World War Mr Sambrook joined the Royal Flying Corps ..the Royal Air Force was not established until 1918.He flew Sopwith Camels and Sopwith Pups over occupied mainland Europe and was awarded the Distinguished Service medal in 1917. When it was realised that the ability to enable planes to take off and land on navy vessels would be a huge advantage in warfare terms platforms were built on gun turrets so that the versatile Sopwith Pup could be launched.
Mr Sambrook was among the first to volunteer for what would have been a very precarious exercise and by all accounts the reputation of these young men as daredevil men of action thrilled a nation.
In fact, the powers that be were delighted when a Sopwith Pup registered the first air to air kill when a Pup flying off a platform on H.M.S. Yarmouth shot down a Zeppelin.
By the end of the was the first ship specifically designed as a carrier, H.M.S. Hermes had been launched.
Mr Sambrook is the uncle of Richard Palmer, who lives in the family home at Deerland and on retirement was the highly regarded secretary of the British Olympic Association  
(RICHARD HOWELLS 2020)