Article Number Six in Hook History Society's Lockdown Series.
This contribution is by guest writer and enthusiastic supporter of the Society, Ruth Ashworth. Bred and born in the village of Hook Ruth was educated in the village school and Taskers Girls Grammar School before qualifying within the Magistrates' Court Service as a lawyer in 1986, ending her career in Lancashire as Legal Team Manager specialising in Family/ Children Courts and championing survivors of Domestic Abuse by setting up Domestic Abuse Case Courts before retiring in 2011. Ruth now resides in south Pembrokeshire.
NOSTALGIC RECOLLECTIONS OF BEING RAISED IN A CLOSE-KNIT COMMUNITY, UNDER THE NURTURING PROTECTION, OF THE VILLAGERS.
In the late 1940's, in a remote western coastal area, where world problems and national concerns had little or no affect, I was born in a thatched/ zinc topped cottage in Pill Road, Hook. Alas my birthplace is no longer standing. I was born into a loving family, struggling to build their lives following WW2 and all the deprivation that brought.
My Father was paid a pittance, my Mother worked at anything and everything to earn extra money for the family and the garden groaned with home grown vegetables, fruit and chickens.
My elder Sister Shirley was 10 when I was born. 18 months after my Sister Jeanette was born. Three daughters then for Walter and Nancy Jenkins.
At the centre of the village was the school, shop, memorial hall, and two Chapels. Little existed outside these boundaries. Cocooned safely, the villagers left their doors unlocked to friends, neighbours and occasionally local Romanies, Marjorie Lovell being the favourite.
Pill Road from the top, where the bus stopped, to the bottom, where the river came up to the road at high tide, was our playground.
We knew every twist and turn in the road, every home and every villager. The hedgerows provided additional treats, wild strawberries, blackberries, damsons, hazel nuts, edible plants and flowers growing in abundance....wild violets, primroses, cowslips, celandine, buttercups, dog roses, honeysuckle..... to name but a few.

Above: Beware...girls at play!!
Either side of Pill Road were cottages, farms or small holdings with cattle and crops. Lots of secret copses and play areas to which we were all welcomed without question.
I keep saying 'we' because the Pill Road children did everything together. We went to Primary school, Sunday School and Chapel. We picnicked down by the tidal River, (The Pill) knowing where and when it was safe.
LIVED FOR MUSIC
Home was always open to friends and neighbours and in particular those interested in music or theatre. My Father, Walter Jenkins, lived for music. Self-taught, he shared his obsession with everyone who was willing to learn.
The whole village became involved with productions. Singing, playing instruments, acting, costume design, stage management, scenery painting, all working together, under his direction, providing excellent homemade entertainment staged in the Miner's Welfare Hall.
Most of the villagers took part..... including all our family, so we were there too at all the shows and rehearsals. We wouldn't have missed it for the world. Some still talk about it today.
Ordinary people, friends and neighbours transformed into mythical....magical characters.
A brass band, dance band, choirs and eisteddfodai held in Hook Mission, all set up and encouraged by my Father. Coach loads of contestants travelled from far and wide to Hook to compete I and my two Sisters always entered singing and recitation classes for our age group,  hoping to win the half crown prize money contained in a little home made velvet bag, with a long strap, presented ceremoniously, to the winner.
We were fascinated by the rehearsals and singing lessons taking place in our home. We would creep downstairs to eavesdrop.  Everyone breaking into fits of laughter at missed cues and entrances. Shirley and our Mother acted in all the performances.  They were transformed into the character they were playing; we were lost in this make-believe world of theatre.
Our parents trained us as performers from the time we could walk. All this tutoring stood us in good stead, giving us a confidence, which would endure throughout our lifetime.
We loved school and I can remember, clearly, my first day.  We knew the teachers from village life and everyone else involved in the school day. It was daunting, leaving the security and warmth of home, walking up Pill Road to school, and then home again at the end of the long day.
Lessons were very formal. Learning tables and spellings with regular tests. Later, preparing for the 11plus exam with the opportunity to attend Grammar School in Town. We also had fun in the playground with bean bags, hoops and skipping ropes.
The annual School Christmas Fair with homemade gifts and food for sale, all reasonably priced,  meant we could spend our limited pocket money getting presents for the family.
NATURE WALKS
Our Teacher, Miss Betty Phillips, led us on Nature Walks. Thanks to her shared passion, her knowledge of the local flora and fauna remained with us for life? We took many walks along the Cleddau which ran through the village. Children in line became a familiar sight to villagers walking from school, down the Quay, to the banks of the river.
The important, essential village people lived in the village. Teachers, the post mistress, the butcher, the shopkeeper, the undertaker, the milkman, the policeman. All followed our progress into adulthood with interest and pride.
Pill Road looked quite different in those days. Homes scattered here and there.... long hedgerows and gutters with little streams running down in between. The walks from the top down to the bottom for little legs, especially in Winter, seemed endless. We grouped together paring off on reaching our homes. I lived quite a long way down but always had the company of those who lived almost at the bottom at the Pill.
On reaching home I was assured of warmth, the smell of delicious cooking, and sitting by a roaring fire to do my homework. Most of the homes were warmed using coal. In Winter only the living room was bearable. Our bedroom was so cold that frost covered the inside of the windows.
Our Mother, Nancy, used to warm milk for us, hold a blanket in front of the fire..... then run upstairs with us and put us to bed. That way we were always warm and cosy.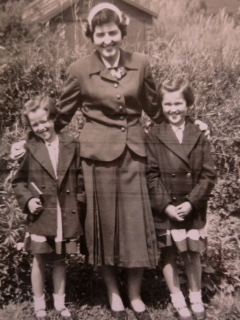 Mum was a brilliant cook up until she died at 92 years of age. She passed her skills down. We learned to make a little go a long way, to make something special out of nothing, to be inventive with ingredients and to use whatever was available.
Our butcher, Mr Ronnie Thomas, lived in Pill Road and had a little shop halfway down. We visited with Mother's shopping list weekly.
A van carrying fish from Milford Haven would visit. Milk and bread were delivered too. Homemade butter came from Auntie Olwen's cows.
Mother would wash and style neighbours' hair. Often when we came home from school.... she was perming or cutting hair in the kitchen. She charged half a crown for a perm. People shared their skills in order to make extra money to survive. Mum picked potatoes at various farms. This was back breaking work for little reward. She foraged for food, wood for the fire. Wintertime she would help the butcher prepare his turkeys for Christmas.
MEAGRE INCOME
She worked really hard to supplement the meagre income coming into the household.
She made our clothes including coats, by hand, sewing, knitting and crocheting. By contrast, Father didn't charge for his music lessons believing it to be a God given talent to share with others. His students, however, often gave my Sister and me treasured gifts of shop bought items......a luxury we cherished.
We were inseparable, like twins with 18 months between us. Shirley who was older looked out for us.
In the summer holidays we picnicked. Sandwiches wrapped in grease proof paper. We crossed the fields to the streams and adopted play areas, not that far from home, but to us secluded, secret hideaways!!
We ate our sandwiches immediately, then played cowboys and Indians with our friends. The undulating land transformed into prairie and hilly landscapes of the Wild West. With bows made from willow and the boys with their toy cap pistols we fought battles. We played for hours. No television then, they were still very exclusive ....but one of our neighbours regularly invited us in to...... "Watch With Mother". Slippers in hand, leaving our shoes at the door, for 15 minutes absolute silence reigned while we listened to Ragtag and Bobtail, Andy Pandy, etc.....moments of magic.
Our wider family came from "The Valleys" and stayed most Summers. Our cousins enjoyed being part of the Pill Road set. The environment free from traffic and hazards.
FORBIDDEN ON SUNDAY
Food was always important though. Mother would always prepare a feast for our visitors ( even family were called "visitors"!). Mothers' specialities were Welsh cakes and Pikelets. She could make anything taste wonderful and eke out what little she had. Dad grew all the vegetables, fruits, raised chickens for eggs. Only sugar, tea, flour needed to be bought in.....
Sunday Dinner was cooked on Saturday evening. She didn't believe in cooking on the Lord's Day. Saturday evening was a mouthwatering experience. Father was allowed to cut the crispy end from the beef joint, eating it with relish.
Playing out on Sunday was forbidden. From first thing we were dressed in our Sunday School best.
Saturday evening was our favourite time of the week. We could spend our pocket money on sweets from the village shop. A few pence went a long way.  We saved all our sweets for the evening.  After bathing and changing into our nighties, we played our favourite game called Desert Island. This game went on for hours, our sweets lasting all evening until those words "time for bed" which we dreaded hearing.
We looked forward to Sunday school because most of our friends would be there. We revered our teachers who regaled us with bible stories.
After Sunday School we went to tea at a friend's home.  Her granny made the best cucumber sandwiches I have ever tasted. Wafer thin bread, lots of butter, thin slices of home-grown cucumber all put together and cut into small triangles.
We then walked together to the Evening Service at Hook Gospel Mission. The services were a complete mystery. We didn't understand anything of what was being said or done. We invented quiet games to keep us occupied under the ever-watchful eyes of our respective parents who couldn't leave us home alone.
Nevertheless this place of worship became our second home with people we knew and trusted...people who cared and nurtured us all.
One Summer Saturday afternoon we were playing in the front garden in our home-made sun dresses when we noticed that Fathers' everlasting sweet peas were growing in abundance.
We knew that shortly the bus would disgorge its passengers at the top of Pill Road. Our neighbours would be passing our front gate shortly so we tied the sweet peas into  small bunches and sat on the front step waiting for customers.
We sold all the bunches for fourpence each, incredibly pleased with our afternoons' work and the extra money we had raised.
Our parents, however, were not at all pleased by their enterprising daughters. We were chided for selling flowers rather than giving them away and instructed to return the money. How disappointed were we.
One thing it gave me was an everlasting love of those beautiful sweet peas!
This has been but a snapshot of our idyllic time growing up in Hook. Looking back, it was the best of times.
Ruth Ashworth (nee Jenkins)