Article Number Sixteen in Hook History Society's Lockdown Series.
THREE FOR THE LORDS BUT SUICIDE FOR ONE
Desmond Louis Donnelly has been dead for about 30 years but I very much doubt that any politician has left a more enduring mark on Pembrokeshire politics.
For generations Pembrokeshire had returned a Liberal to the House of Commons but in 1954 along came a rather brash, extremely self-confident 29 year old called Desmond Donnelly, who challenged  the sitting member, a household name and son of a hugely popular former Prime Minister, David Lloyd George (the Welsh Wizard) ……….. the son was Gwilym Lloyd George…
Lloyd George had a good reputation as a constituency man and was receiving quite a deal of support from the local media, but the barnstorming Donnelly worked his socks off. He boasted he has spoken in every village in Pembrokeshire; several big guns came to the county in support and this, remember, was in the days when hundreds flocked to village hall style political meetings.
Donnelly had unsuccessfully fought two election campaigns before he arrived in Pembrokeshire, so he had experience belying his youthful appearance.
On a cold February evening hundreds stood outside the old Market Hall in Haverfordwest when well after midnight the Clerk to Pembrokeshire County Council, Louis Underwood, told the stunned crowd that "Major Gwilym" as he was known throughout the county, had been defeated by 129 votes. Later he was to take on the title Viscount Tenby while his sister, Megan, was for several years LABOUR MP for neighbouring Carmarthenshire.
On the day 51,004 people had cast their vote. Donnelly was 29 years old and claimed to be the youngest Labour MP in the House of Commons.


Above: Gwilym Lloyd George who was to become the 1st Viscount Tenby
DONNELLY IN......
1951 ELECTION RESULT:
National liberal & Conservative...Gwilym Lloyd George.....25,421
Labour........Desmond Donnelly..............25.550
Majority.......129
Who was Desmond Donnelly?  He was born in India, the son of an Irish tea planter while his mother was the daughter of an English Indian civil servant. It appears that the father disappeared from the scene when Desmond was about eight years of age and the he was taken to England by his mother and schooled in Gloucester and the Isle of Wight.
BOMBER COMMAND
Donnelly joined the Labour Party in 1936 and at the outbreak of war he joined the Royal Air Force serving as a Flying Officer with Bomber Command and later with the desert air force in Italy. After the war he lectured for a year at the Royal Air Force Staff College. This was followed by a few years in journalism.
In the General Election of 1945, he stood unsuccessfully as the Commonwealth candidate in the Evesham area but here started a tradition of switching parties and after being soundly defeated he re-joined Labour in the following September.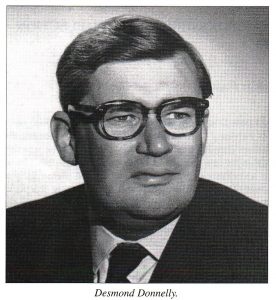 A tradition which was to later earn him a reputation as a political chameleon.
He was a member of four political parties during the course of his career and moved between parties on five occasions.
Once elected to represent Pembrokeshire in the Commons he set about building a huge personal following showing a style and consideration which earned not only votes but support that remained steadfast in the really tough times that lay ahead.
Having made it to Parliament Donnelly quickly made a name for himself and rapidly became one of the most travelled members in the House. A ten major city speaking tour of America; travels literally all-over Eastern Europe; extensive tours to China and even Outer Mongolia had him earmarked as a future Foreign Secretary. A catalogue of top world-famous politicians listed as friends. They included American Dean Atcheson; German Willie Brandt; Rhodesian Ian Smith and at home his idols, Aneurin Bevan and Hugh Dalton.
There is no doubt that most people marked Donnelly down as a future minister but there was a major fly in the ointment. And that was his intense almost hatred of Harold Wilson…………..a feeling which by all accounts was returned with relish. In the 1963 leadership battle Donnelly supported George Brown and used his extravagant turn of phrase to try and put down the future prime minister.
Many thought Donnelly enjoyed being the political maverick and he had a serious rift with Aneurin Bevan over German re-armament about which Bevan had severe reservations, but Donnelly thought necessary. So ended that friendship.
Anti- Soviet Union and continually pouring scorn on the Campaign for Nuclear Disarmament Donnelly was living in the headlines and his profile was considerably raised through his political columns in the Daily Herald and the News of the World. Prior to the Brown -Wilson leadership battle Donnelly had become a close friend of the then Labour Leader, Hugh Gaitskell, who regularly holidayed in Pembrokeshire, Little Haven in particular, and was a constant visitor to Donnelly's cliff top home near St Nicholas. Gaitskell was, of course Leader of the Labour Party having succeeded Clement Attlee and his untimely death at the age of 56 shocked the nation and set in train the Wilson versus Brown leadership struggle.
DIED SUDDENLY
Sadly Gaitskell died very suddenly and somewhat mysteriously in 1963…….this brought Harold Wilson to the fore and when he became PM in 1964 Donnelly was sent to the back benches from where he wreaked havoc.
Being widely travelled and without a shadow of a doubt having the talent to hold a ministerial appointment he was deliberately side-lined. That was his cue to continually pour scorn on Wilson's foreign policies; his uncertainty over Europe and finally the parting of company with the Government came when the Pembrokeshire MP opposed Labour plans to nationalise the steel industry. Donnelly was the master of the smart put down so loved by the Press. On one occasion he described a highly respected senior Welsh politician as "packing the punch of a cardboard cut-out of Cassius Clay." and a well-known Welsh Labour politician described Donnelly as a "compulsive traitor" ........all vicious repartee which delighted the Press of the day.         
There was nothing left for Donnelly but to resign from the Labour Party and within weeks the whip was withdrawn. Sadly, his enviable support building reputation as a constituency man was not replicated in the House where many voiced highly uncomplimentary remarks about his perceived lack of loyalty.
Insult was added to injury when invited to speak to the right-wing Conservative Monday Club Donnelly received a two-minute standing ovation and was widely reported as saying that Wilson would serve the country well if he left public life!
At this stage many who new Donnelly well and understood his wide popularity in Pembrokeshire expected him to join the Conservative Party but no, he had to be different, and 1969 he launched the Democratic Party.
He favoured the return of national service; capital punishment should remain for certain categories of murder; the welfare state needed a complete overhaul…………these were among the more eye catching of the fledgling party's aims.
In the run up to the June 1970 election the Pembrokeshire Labour Party was almost literally split asunder. At a rowdy meeting in county headquarters in Dew Street, Haverfordwest, the true Labour party members and Donnelly's staunch followers, some claim, literally came to blows. There was certainly a great deal of pushing and shoving which led to the Labour party members walking out lead by schoolteachers Gordon Parry and Cecil John both of Neyland.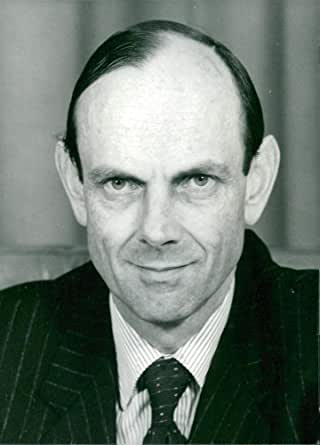 Above: Nic Edwards who was to become Lord Crickhowell
It took a long acrimonious courtroom process before the Labour Club and other properties were restored to the Official Labour Party and the Democrats ordered to leave.
At the 1970 election naturally Donnelly fought for the Pembrokeshire seat and in other parts of the UK a not impressive band of four other candidates stood under the Democrats banner.
UPPER CLASS ACCENT
At this stage Nic Edwards entered the scene.
Edwards was adopted as the Pembrokeshire candidate in March 1968. Aged 34 he had what was described as "a rather posh upper-class accent" but it soon became apparent that he enjoyed a fight and had no intention of settling for second place. Straight into the fray he matched Donnelly's fondness for invective by dubbing him an intellectual fence sitter who had resorted to writing letters of support in the local press drafted by himself and published under false names. 
In fairness to Donnelly he fought really hard in the county and relied heavily on a personal vote garnered over the years he had been the sitting member.
The winner was Nicholas Edwards, Conservative, (later Lord Crickhowell) with 19,120 votes; second Gordon Parry, labour, (later Lord Parry of Neyland) with 17,889; and third Donnelly with a most creditable 11,824. For the record Wynne Samuel, Plaid, was third with 3,681 and the Liberals (Wynford Thomas) polled 2,541. Wynne Samuel was Town Clerk to Tenby Borough Council.
DONNELLY OUT,,,,
Result of the 1970 election....
Conservative....Nic Edwards.......19,120
Labour...............Gordon Parry........17,889
Democrat..........Desmond Donnelly.....11,824.
Plaid............Wynne Samuel..........3,681
Liberal..............D.W. Thomas.....3,521
Majority.....................1. 231..
Sadly, those who knew him well had noticed a change in Donnelly. Dubious campaign decisions were being made. At one stage he compared himself with Henry Tudor marching from Pembrokeshire to change the country forever. On another occasion he and the family operated from a boat moored near Lawrenny and Donnelly   conspicuously marched into a local newspaper office clad in sea boots: a huge fisherman's sweater and a Breton hat. Many thought a somewhat eccentric character was simply courting publicity to promote his campaign but to agent Glyn Rees; secretary Penny Sime and those closest to him real concern was being expressed.
It was not long before Donnelly…..without, it is said, informing his fellow Democrats…..joined the Conservative Party and twice applied for nominations but was twice interviewed but rejected.
Rejection in politics……really struggling as a businessman…..apparently unwanted as a journalist Desmond Donnelly became more and more depressed and in April 1974 with a massive overdose of barbiturates washed down with vodka he took his own life in a hotel bedroom near Heathrow Airport.
Meanwhile Nic Edwards went from strength to strength proving himself a competent champion for his adopted county, becoming Secretary of State for Wales and a firm favourite of the Iron Lady, Margaret Thatcher. Such was the regard he became a member of her Star Cabinet. I am sure Nic Edwards would be first to agree a large part of his success at grass roots County level was down to one of the best constituency agents in the country, Bill Weale. In the other corner was Agent Glyn Rees, who married Donnelly's secretary, Penny Sime and together they ran the Golden Lion in Newport (Pembs).
HONOURS AWARDED
Twice Edwards took on local schoolteacher and Labour activist, Gordon Parry in a Parliamentary elections and each time won by about a thousand plus votes. In the Donnelly swansong election Donnelly collected nearly 12,000 votes..............many of whom it is safe to conclude were Labour and at the next election a strong Liberal candidate collected, a record for Pembrokeshire, of over 12,000 votes. The candidate was the popular local Patrick Jones. Parry was very well known in Pembrokeshire. He taught in Haverfordwest Secondary Modern School; was a long serving member of Neyland Urban Council; a Neyland and County rugby player and a Labour activist who was continually hitting the headlines in the local press. Twice he fought Parliamentary elections in East Wales and performed very creditably in situations where he was up against huge Conservative majorities.
Parry was to become Lord Parry of Neyland and Edwards, Lord Edwards of Crickhowell. Parry was to become Chairman of the Wales Tourist Board and Edwards was appointed the first Chair of the National Rivers Authority and before his death at 84 was involved in a string of cultural and business appointments, one of which was a directorship of HTV.
After defeat in Pembrokeshire Lloyd George won the Tory seat at Newcastle upon Tyne and was appointed Home Secretary by Winston Churchill. He was the man who refused to commute the death sentence on Ruth Ellis the last woman to be sentenced to death and hung in the United Kingdom.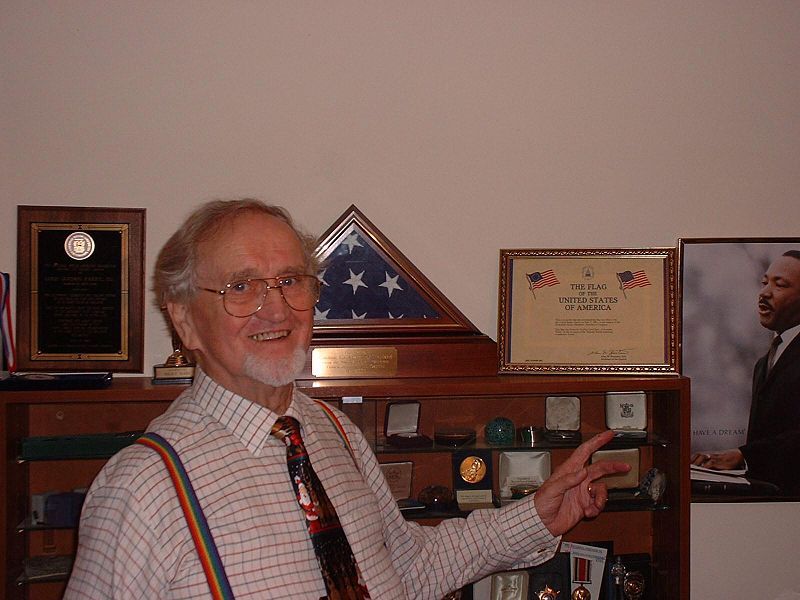 Above: Gordon Parry who was to become Lord Parry of Neyland pictured when Chair of the Wales Tourist Board
For additional information a search of the web under the names of the three main characters of this storey is bound to provide fascinating  reading but a reliable source and really interesting are the writings of J. Graham Jones, whose publications via the Pembrokeshire Historical Society are available on line.
FOOTNOTE:
The Lockdown series finds its way into about 150 or so homes and when I, rather foolhardily,  asked would any of the readers like the spotlight turned on any particular subject Pembrokeshire politics around the turbulent  late 1950's to the mid 70's was requested by three followers.
All three had attended a History Society lecture by local Hook boy, Sam Blaxland.................or I should say Dr Sam Blaxland ....who for his dissertation choose the topic: Factors Influencing Conservative Party success in Pembrokeshire 1970-1987.  Dr Blaxland has been engaged for some time writing the history of Swansea University and has with great skill woven a tapestry incorporating not only the history of the University but the broader social history of post-war Britain.
The book is launched this month and as Dr Blaxland unwittingly lumbered me with the above Lockdown effort, I accelerated the use of the article to coincide with the publication of his book.
Dr Blaxland, the son of Stuart and Sue Blaxland of Hook, will be in the company of other platform speakers in the form of Hillary Clinton and the Prince of Wales.
Dr Blaxland was made a Post-doctoral Fellow in Swansea University's History Department in November 2016. Born and raised in Pembrokeshire and educated at Hook C.P, and Tasker Milward he has since lived, worked, or studied in Cardiff, Swansea, London and Oxford. His broader research interests lie in the field of modern British political and social history. He is also a regular commentator on current affairs and appears regularly in the British and Welsh broadcast media, including as a studio pundit during the BBC's live overnight coverage of the 2019 general election. He has published in peer-reviewed journal articles and newspapers and has spoken or given conference papers on his research in places like Oxford's Bodleian Library, Harvard University, and the Houses of Parliament in Westminster.
(Richard Howells 2020)