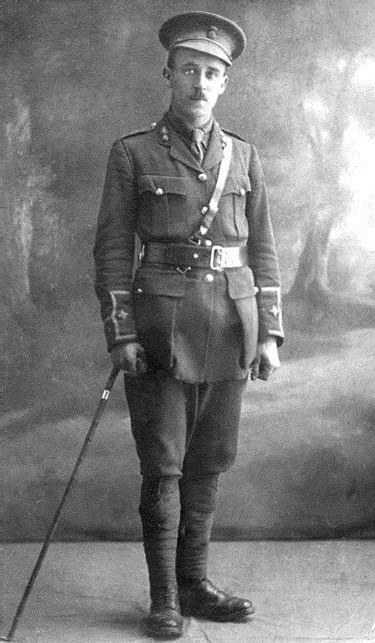 While researching the history of  Hook for the production of the highly rated dvd THE BLACK DIAMOND VILLAGE extensive use was made of back dated issues of newspapers which circulated in Pembrokeshire, particularly at the time of the First World War.
The latest spin off from the research is a series of extracts from Pembrokeshire and Swansea based Press giving a brief but colourful snap shot of the village's involvement in the First World War. During that conflict Hook lost two men: guardsman William Hitchings and village Headmaster Lieutenant Gwilym Jones, both of whom have their names recorded on the village war memorial.
A selection of the extracts read as follows:  
WALKING STICKS AS GIFTS …………SEPTEMBER 24th 1919
An interesting gathering was held at Hook Council School last Saturday when Captain J.R .Harcourt Powell, the local land owner and 16 young men from Hook who had served with the colours were presented with walking sticks suitably inscribed. Mr T.W. Harcourt, Little Milford presided.
In handing Captain J.R. Harcourt Powell with a gold mounted walking stick, Miss Martha James, one of the oldest residents of Hook, said it was a gift from the tenantry as a mark of their esteem and appreciation of his gallant service in France. She wished Mr and Mrs Powell every future happiness and rejoiced at their landlord's recovery from his wounds. Another village octogenarian, Mr Thomas Cousins presented Mrs Powell with a handbag and in doing so quoted some apt lines of poetry.
Mrs Powell went on to present the following, on behalf of the Peace Celebrations Committee, with a walking stick: Pte. G.Owen (representative of Jos Thomas, deceased); Ptes. R.Thomas; A.Green; William Edwards; Driver J.J. Havard ( representative of  Wm. A. Bowen deceased);Pte Jas Havard; Pte Fred Harvard; Pte George Jenkins; Serg.t Major Ed O'Connell ;D.C.M. Sergt Tom L. Worthington; Pte Absalom Folland; Able Seaman James Folland; Pte R.S.Robertson and Sergt. William Folland.
There followed a concert with performances from children of the school with an array of patriotic songs.
The landlord and the recipient of the splendid gold embellished walking stick owned upwards of 80 cottages in Hook and was also the principal owner of the only real source of employment in the area… Hook Colliery.
EXTRAORDINARY EXPERIENCES OF A HOOK SOLDIER……………………October 13 1915
If not exactly a native of Hook Company Sergeant Major O'Connell claims very close relations with the village. He married the daughter of Mr and Mrs William Lewis of Pill Road. A member of the regular army Co. Sergt O'Connell t was stationed with his regiment in Pembrokeshire when he met his wife. He was attached to the 8th Battalion Welsh Regiment and was with the first expeditionary force to be sent to the Dardanelles.
Seen by a  representative on Monday the gallant soldier said he was not much of a talker but we managed to elicit a few particulars which go to show the heroic part played by this typical Irish soldier in the great struggle at the Gallipoli peninsula.
On the day he was wounded O'Connell was one of a small band of ten of twelve men left out of his company. They has resisted attack after attack of the Turks and their party by degrees had dwindled until only nine were left when fortunately they were relieved by the New  Zealanders
Co-Sergt O'Connell was wounded in the thigh and the German bullet is still embedded in the flesh. He hopes shortly to undergo an operation for the removal of the bullet. The same day he got shot in the thigh O'Connell had a remarkable escape. A bullet struck his shoulder and deflected by a shoulder strap glanced off and chipped a piece off his nose. 
HOOK COAL SHIP SUNK BY SUBMARINE……… February 1916
The Kindly Light a 116 ton sailing ship owned by the Hook Mining Company was sunk by shell fire from a German submarine (Uboot 101) ten miles off Treveso Head on February 1st 1916. She was returning having delivered a cargo of anthracite to the French port of Honfleur. The crew of the Hook based sailing vessel were rescued by the barque, Elda, and landed safely at Port Victoria.  There were no casualties.
It is believed the crew were ordered into a lifeboat by the German submarine skipper before he shelled and sank the Kindly Light.
SCHOOL HONOURS HERO HEAD……………..October 1917
At an impressive well attended event held in Hook C.P. school the late headmaster, Lieutenant Gwilym Rees Jones was remembered when a framed portrait of the Lieutenant was unveiled by Mr Harcourt Roberts of Little Milford and presented to the School. Mr Jones had volunteered for the Royal Welsh Fusiliers and was killed in action on August 10th 1915. He died in action on Chocolate Hill, Dardenelles and was buried on the battlefield the same night. Lieutenant Jones sister was present at the ceremony having travelled with a friend from Hirwaun where the Lieutenant was born at Cefndon Farm in 1888. The Chaplain from the military camp at Hearston conducted the evening's events and music was supplied by the band of the Welsh Regiment.   
The framed picture still hangs in the village school…one hundred years later. 
PEN AND INK FOR THE SOLDIERS …..….19th May 1915
A very interesting ceremony took place at Hook on Sunday last when each man from the village serving with the colours was presented with a fountain pen and a bottle of ink and a letter wishing him God's speed and a safe return home. The names of the young men are as follows: Edward O'Connell, Pill Road; Joseph James, Pill Road; James Havard, Woodside; Arthur Green, Woodside; Thomas J. James, Llangwm Hill; Richard Thomas, Lower Quay; Joseph Thomas, Pill; and John Jenkins, Pill Road. The last named is in the Navy. William Folland and William Saunders have also joined the Welsh Guards and Army Service Corps while James Folland, son of Absalom Folland has just returned from America, where he has been for about four years, in order to enlist in the Navy. The patriotism of Hook people is wonderful and they have set a fine example to other and larger districts in the county.
It would be as well if those who so strenuously oppose the construction of a new road to the district and are so fond of pratting of their loyalty at public meetings would consider what a fine contribution this badly treated community has made to the fighting forces of this country.
The writer could not resist a swipe at those in positions of power who steadfastly resisted requests for road to be built linking Hook with the main road to Haverfordwest at Freystrop.