Article Number Nineteen in Hook History Society's Lockdown Series.
Queen Owns a Painting of Hook .... by Local Artist
While preparing for the recent Exhibition organised by the History Society it was discovered that a painting of a well-known Hook building and adjoining walkway featured in Queen Elizabeth's private collection.
Added to the excitement was the fact that the artist was, in fact, born in Llangwm and spent a great deal of time staying with relatives in Hook.
He is Maurice Sheppard, PPRWS, NEAC, MA(RCA) born in Llangwm in 1947 and educated in Haverfordwest Grammar School where he was taught by the then Art teacher, Ronald Lowe, before graduating from the Royal College of Art.
Mr Sheppard, who now lives in retirement in Haverfordwest, was approached by the History Society and enthusiastically supported the  Society's plan for an Exhibition and he would be pleased to see his painting displayed.
There was one proviso.......we would need the permission of Buckingham Palace as the original was now part of the Royal Collection. In a matter of days, a letter from the Royal Collection Trust at Buckingham Palace gave the go ahead.
Mr Sheppard is extremely well regarded in the world of art being elected to the Royal Watercolour Society in 1974, he became a Trustee from 1984 – 1995, serving as President from 1984 – 1987, (the youngest President since 1819) and retiring to Honorary Status in 2002. In the year 2000 he was elected to Membership of the New English Art Club.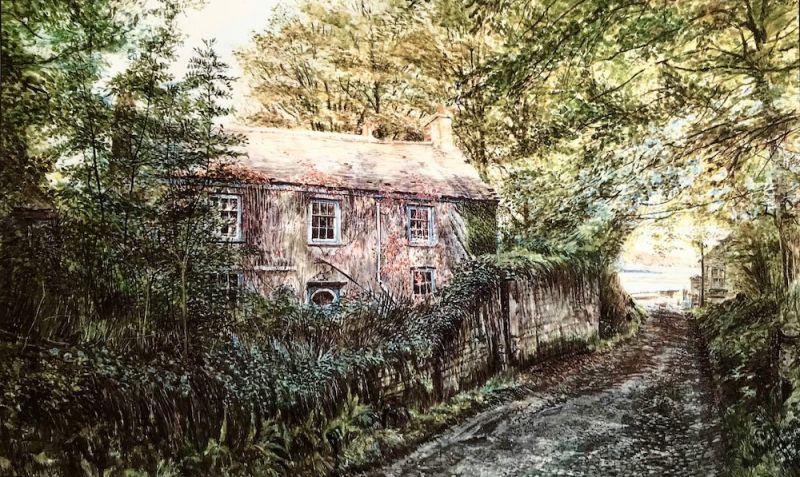 Above: Lane to the Shore, Lower Quay, Hook
The painting first came to prominence when a major trade union chose it as the principal feature on what was at that time a most prestigious calendar and then some years later it was offered as a gift to Her Majesty, the Queen. Accepted it now rests in the Royal collection at St James' Palace.
Regularly having works selected for exhibition at the Royal Academy Summer Exhibition Mr Sheppard has had more than 60 oils selected and hung during these years.
There are works in such prestigious venues as the Victoria and Albert Museum; National Museum and Art Galleries of Wales, Cardiff; Birmingham City Museum and Art Gallery; Carlisle Museum and Art Gallery – Tullie House; Beecroft Museum and Art Gallery, Southend on Sea; Towner Art Gallery, Eastbourne; Topsham Museum (Lady Frances Stevens Bequest), Exeter; Glynn Vivian Museum and Art Gallery, Swansea; Contemporary Art Society for Wales; National Library of Wales, Aberystwyth; University of Wales – Aberystwyth; Royal Watercolour Society – Diploma Collection, London.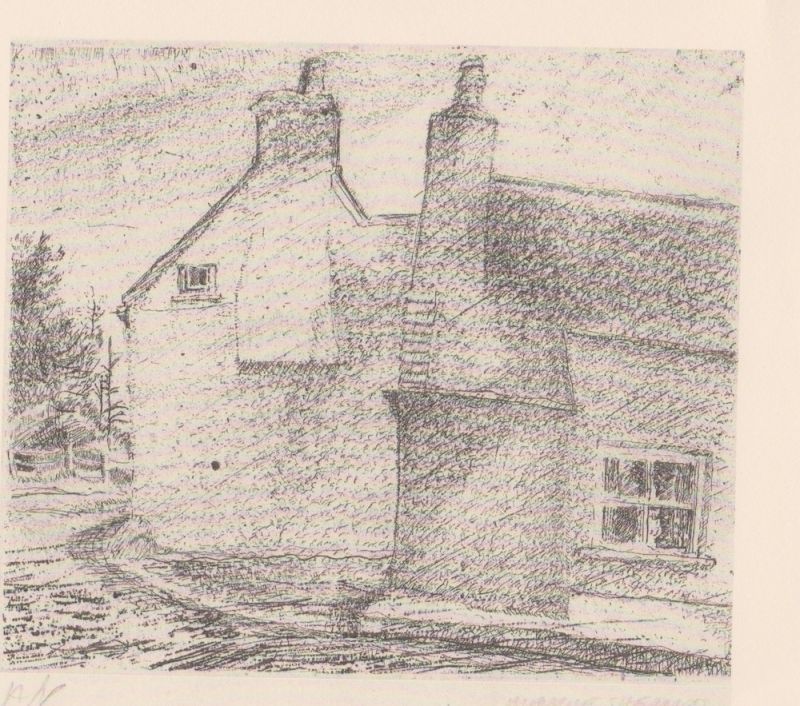 Above:A sketch of the cottages on the first corner on Lower Quay road where Mr Sheppard used to stay with members of the family
Amongst Corporate Collections are – Blue Circle Group (Portland Cement Company); Croda International; Canary Wharf Development Company; Cloke & Co; and the MBNA International Bank of America who own 11 works from the years 1974 – 1995.
In October 2007 the "Casgliad Maurice Sheppard PPRWS Collection" was founded when the artist's "Private Collection" was presented to the National Library of Wales, at Aberystwyth. This consists of more than 600 pieces of drawing, watercolour and print by some 210 artists working during the years 1750 to date. There are 130 drawings by Mr Sheppard from the years 1962 – 2005.
Mr Sheppard attended the recent History Society exhibition and was pleasantly surprised how many people he met who well remembered his family in Llangwm and boyhood days in the twin villages.
THE COLOURFUL TRADITION
An interesting item that did not make into the series was the centuries old tradition of welcoming in the New Year with a Wren Box.
Carols in Hook were traditionally sung at the New Year and not at Christmas. Carol singers would be heard going about the village from midnight until noon on New Year's day.
From January the 6th until the 12th it was the tradition to tour the village with a gaily decorated box that looked like a small house and in the "house" would be a  wren or the King as it was known, Wrens at that time were easily caught in hayricks or the thatch of which many of the village dwellings had as roofing.
Many houses and outlying farms would be visited and in a copy of a 1984 Pembrokeshire Magazine Reg Phelps, the former headmaster of Freystrop school, wrote
"In those days every household had a wood fired oven built into the wall near the kitchen chimney and it was the custom to have a bake before Christmas and New Year.
Rich yeast cakes were baked in different shapes and sizes, some using sweet tins from the shop as baking or loaf tins. Most farmers made home brewed beer, one of the casks containing the best or strongest beer and another one or two with weaker or inferior beer...known as small beer.
Often singers would be given a slice of cake spread with farm butter and dampers of warm sweetened beer, which had been heated in a saucepan or "skillet" on the anthracite coal fire."
Reg Phelps' grandfather and great grandfather were managers of the thriving Hook colliery.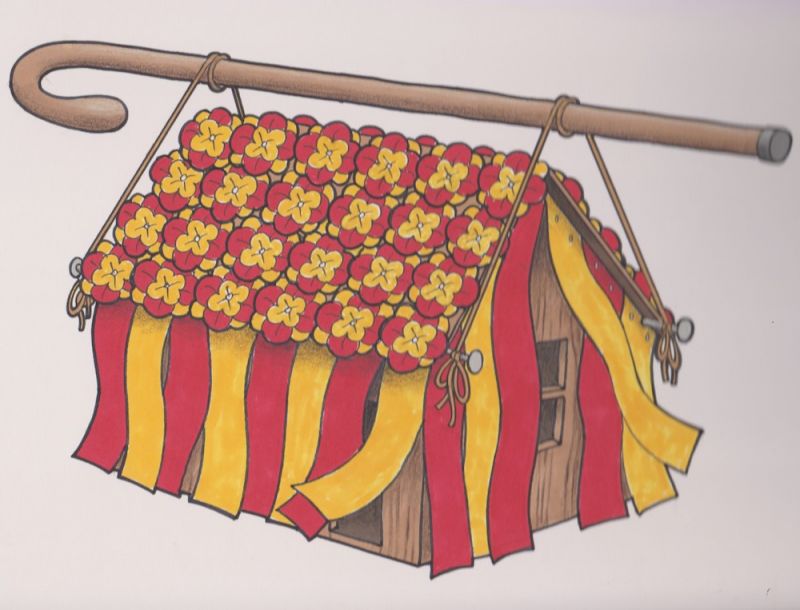 Above: This colourful drawing gives an excellent image of the Wren Box of yesteryear
ANOTHER INTERESTING ITEM....
HOOK WOOD SSSI
Hook Wood has been designated a Site of Special Scientific Interest and there are references going back to Norman times when timber and firewood were harvested from the wood.
In 1603 George Owen described Hook wood as one of the "best standing woodes" of Pembrokeshire.
It has been reported that 142 animal species have been recorded in the wood and up to 190 different plant species. In the early 1900's a large part of the wood was turned over to commercial forestry work, but slowly under the stewardship of the National Trust the traditional balance is being restored. Large areas of the wood were bequeathed to the National Trust on the death of Mr Harcourt Roberts, whose family had been associated with the wood from their Little Milford home for many years and provided casual work for many locals, particularly womenfolk.
(Richard Howells 2020)